2022 Tri M Photo Contest Winners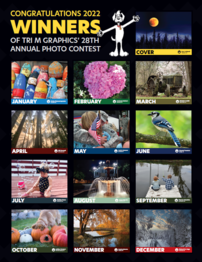 2022 Tri M Photo Contest Winners
Congratulations to the 2021 Winners

These photos were selected out of 790 entries from residents of ALL 50 states.

On behalf of the Tri M team - we would like to THANK everyone that entered this years contest. Each of you made the judges job extra difficult as there were so many wonderful photos that were submitted to the contest.
Our panel of 12 judges worked hard to review each photo multiple times as they worked toward the winning 13 photos (12 months plus the cover).
The winners of this years calendar are:
Cover- Ron Caldwell, AK

January - Kathy Diamontopoulos, MA

February - Carol Jean Reichart, MN

March - Michele Crabill, NY

April - Bill Boswell, MI

May - Carol J. Swanson, MN

June - Chantal Taunton, NC

July- Shelley Thom, MN

August - Trevor Gieseke, MN

September - Theresa Meschke, MN

October - JoEllen Stewart, CO

November - Bonnie Johnston, MN

December - Richard M. Lingo, OH
The 2023 Contest will open on July 1, 2022.
GOOD LUCK as you look for that perfect photo for next years contest.
Pick up your FREE 2022 Photo Calendar while supplies last
Tri M Graphics - 625 East Main Street - Owatonna, MN 55060
Thanks!
Max & the Tri M Graphics Team!